Workshops
Sarah is not currently offering any workshops, as she is focusing on her studio work. Thank you for your interest!
---
Summer 2017 Mini-Workshops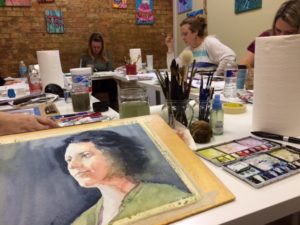 Join Sarah once a month this summer for an adventurous morning in watercolor! These mini-workshops are designed for all levels of expertise, so whether you're an accomplished watercolorist or an absolute beginner, you'll come away with a valuable experience that will improve not only your watercolors but also your work in any other media.
Choose just one workshop or all three!
For more information, including pricing, booking and what to bring, checkout the workshop details at Paintbox on the Square or send them an email.
Calendar of Events:
Saturday May 27, 9-12 noon : Focus: Portraits
Saturday June 24, 9-12 noon; Focus: Sketchbook Journaling with Ink and Wash
Saturday July 22, 9-12 noon; Focus: Birds, trees and little critters
---
Enrollment for the April 22nd Workshop is now Closed – join us for the next one!
---
This workshop is designed for all levels of instruction. Beginners with no drawing or painting experience will not be lost, and advanced artists will not be bored. It will take you through a broad range of subject matter, plus furnish you with a valuable collection of tips and tricks that Sarah has accumulated based on her classical training as an artist, her personal journey as a portrait painter, and her experience teaching art and painting on a number of different levels over the last 15 years.
Unlike most workshops, this one is a one day affair. Drive out. Have a blast. Drive home. No hassle. You will work from photographs, glean from the work of artists who have come before you and have an opportunity to watch Sarah paint a portrait start to finish throughout the day.
We hope you will join us for a chance to get away from it all, have some fun, and learn some valuable new skills! For more information about how you can enroll, please contact the friendly folks at Paintbox on the Square. This workshop does have limited seating and is filling quickly.
Feel free to check out the Supplies List if you'd like to know what to bring.